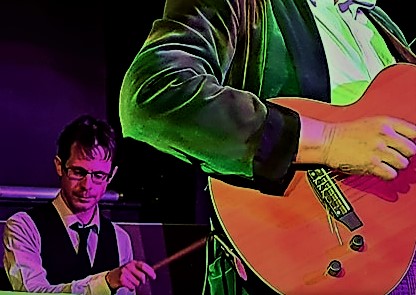 Ride the Carousel Bizarre as Gypfunk take you on a journey through the back streets of Montmartre, following an oblique trajectory through Parisian café culture and the intoxicating nausea of a smoke-filled cabaret.
Immerse yourself in a continental cocoon with the infectious sound of Gypfunk and her curiously engaging French songs with shades of chanson, a drizzle of balkanesque cool and a whiff of bohemian funk.
Drift into Gallic reverie as Mario's atmospheric accordion pours Parisian flavour over slick garlicky bass and drum grooves - courtesy of the stylish Malfait on bass and Monsieur B on drums. Singing in French, frontman Moustache regurgitates unlikely songs of love, booze and gastronomy. 

The Gypfunk repertoire presents an eclectic mix of original compositions and also embraces the best of contemporary French tunes from the likes of Yves Jamait. Gypfunk songs often tackle the unexplored hinterland of modern living and the human condition. - addressing such thorny issues as spiders in the urinal and the phenomenon of nose froth, experienced when drinking a cappuccino. There's plenty more where they came from.